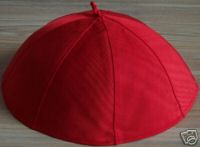 Cardinal Vatican Zucchetto
BRAND NEW AND FROM THE PAPAL TAILORS
NOTE: THIS IS NOT A COPY – THIS IS THE REAL THING!

– FROM VATICAN CITY –

AS WORN BY
ALL CARDINALS
INCLUDING
HIS HOLINESS POPE BENEDICT XVI
BEFORE HE STARTED GLORIOUSLY REIGNING

CARDINAL
ZUCCHETTO
[RED WATERED SILK SKULL CAP]

(This is the REAL THING from Rome!)

The zucchetto (plural zucchetti, Italian for "small gourd"), also called pileolus, is a small skullcap worn by clerics of the Roman Catholic Church and within Anglicanism. It was first adopted for practical reasons – to keep the clergy's tonsured heads warm in cold, damp churches – and has survived as a traditional item of dress. It consists of eight panels sewn together, with a stem at the top. Its name may derive from its resemblance to half of a pumpkin, or from the fact that it covers a larger "pumpkin" (the head).