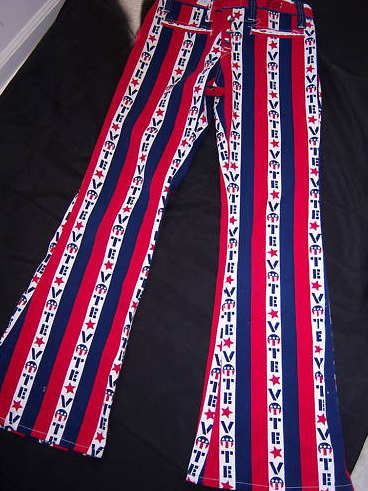 VINTAGE EARLY 70'S "VOTE" PRINTED PANTS 34 W VALUE $180
THERE IS A FUNNY STORY BEHIND THESE AS I HAD NO CLUE TO WHAT THEY WERE I HAD BOUGHT THESE AT A GARAGE SALE ABOUT 20 YEARS AGO AND I WAS WORKING AT THE POLLS . I JUST THOUGHT HOW COOL THEY WOULD BE TO WEAR WHILE HANDING OUT FLIERS. AFTER THAT, PUT THEM AWAY AND FORGOTTEN. THIS FOURTH OF JULY I FOUND THEM, LISTED THEM IN JUNE 2010 AND I GUESS THE WAY THEY WERE LISTED NOBODY PAID ANY ATTENTION TO THEM.

I JUST HAPPENED TO BE READING A JUDITH MILLER BOOK LAST NIGHT TRYING TO FIND SOME OF MY GLASS WARE WHEN I SAW THESE PANTS AND THEY HAD THEM VALUED AT $180. SOMEBODY COULD HAVE GOT A GREAT BARGAIN BACK IN JUNE. WHO KNEW, I CERTAINTLY DIDN'T.