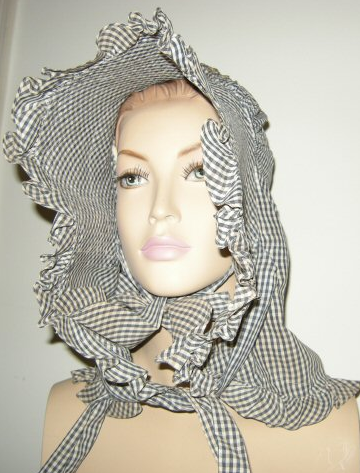 AUTHENTIC PRIMITIVE GINGHAM SLAT BONNET w WIDE SHAWL
COMES FROM A LOCAL ESTATE IN A BOX THAT READS ~ SUN BONNET MADE FOR E.C.B. BY AUNT HARRIET LOUISE JONES. SISTER OF SARA ALIDA JONES BROWNING ~THE LAST NAME MAY NOT BE BROWNING. HARD TO READ SO CHECK OUT THE PICTURES AND DECIDE FOR YOURSELF.

I GOOGLED THE NAME HARRIET LOUISE JONES AND FOUND SOMETHING WRITTEN ABOUT HER IN THE HISTORY OF WESTMORELAND COUNTY, PA. I DON'T KNOW IF IT'S THE SAME LADY, BUT HER MOTHER'S NAME WAS SARAH SO IT SEEMS POSSIBLE THAT SHE WOULD ALSO HAVE A SISTER BY THE SAME NAME.
WHAT WAS WRITTEN WAS MOSTLY ABOUT HER HUSBAND, FREEMAN GAY WHO FOUGHT THE FIRST DAY AT GETTYSBURG, WOUNDED AND TAKEN PRISONER BY THE CONFEDERATES, WAS ONE OF 109 MEN WHO ESCAPED, RECAPTURED, THEN SPENT 20 MONTHS AS A POW UNTIL RELEASED ON MARCH 1ST 1865. ON MARCH 30TH HE MARRIED HARRIET LOUISE JONES OF JONESVILLE, WESTMORELAND COUNTY, PA.

AS MENTIONED I DON'T KNOW IF THIS IS THE SAME HARRIET LOUISE THAT MADE THIS BONNET FOR E.C.B, BUT I LIKE TO THINK THAT IT MAY BE.