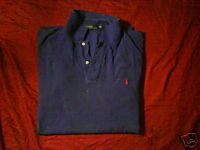 Ralph Lauren Polo Shirt
This is a used Ralph Lauren Polo Shirt. This shirt has sentimental value. This shirt belonged to my deceased fiancee. He passed away when our daughter was 11months old just two weeks shy of her first birthday. My little Angle is four now. Time for pre-k!Nothing will give solace from the thought that my angel will never have the father daughter activities or memories with her real father like i have shared with mine.

In the county I live in the public schools only accepts students whose parents are incarcerated or on Medicaid. I do not fall into either category so i had no other option but to place her in private school. In addition to paying for her daycare and private school tuition i have to pay back students loans.

This will help in paying for my daughters tuition.