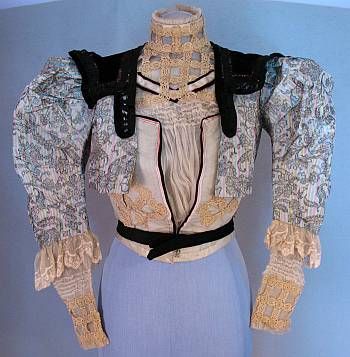 Little Women
From the estate of Eric Parkman Smith of Concord, MA, who recently passed at age 97. Mr. Smith was an avid historian who traced his Concord lineage back to 1630. Much more information can be found by doing a web search for "Eric Parkman Smith". This dress belonged to Mr. Smith's mother, Helen Train Blanchard Smith. She was one of three Blanchard sisters in Concord who married three Smith brothers. As a young girl, she met Louisa May Alcott, before the author of "Little Women" died at age 55. Louisa inscribed a copy of 'Little Women' to the little women of Blanchard house. This book, now ragged and tattered from hundreds of readings by 'the little women,' their children, and grandchildren, became the prized possession of the Smith family.

This gorgeous Victorian bodice is fashioned from chine silk with a grey floral pattern on pastel stripes. We feel fairly certain the matching skirt was used to make the Edwardian dress we are featuring in another auction tonight. The underbodice is fashioned from pale aqua silk taffeta and the center front insert is fashioned from sheer cream silk chiffon. The black silk velvet shoulders are decorated with black passementerie trim. Squares of cream lace decorate the high neckline and sleeves. The grosgrain waist stay bears the original dressmaker label which says D.P. McKenney, Boston. The bodice is heavily boned for support.

We're including the matching lace trim that was packed away with this bodice and probably was removed from the skirt. The bodice closes with an intricate network of hooks and eyes hidden at the front and wrapping around to the back neck.