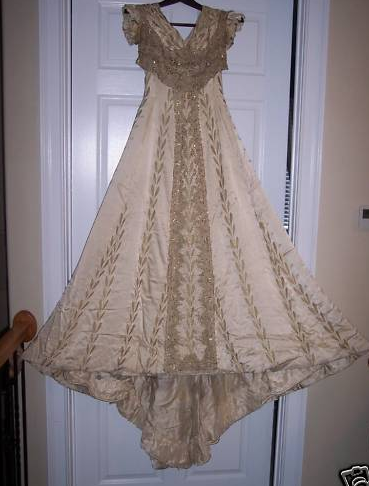 IMPORTANT 1903 REDFERN JEWELS VICTORIAN GOWN PROVENANCE
PROVENANCE: THIS DRESS WAS MADE FOR AND WORN BY ANN BLOOMFIELD GAMBLE SCHOFIELD POST. SHE WAS PRESENTED IN THIS DRESS TO THE KING AND QUEEN OF ENGLAND DURING EDWARD'S CORONATION IN 1903. ANN WAS THE WIFE OF MELVILLE DAVISSON POST, THE FAMOUS AMERICAN AUTHOR.
LADIES PHOTO: 11″ BY 17″ THIS IS THE ORIGINAL PHOTOGRAPH OF ANN WEARING THE GOWN . THE PHOTO WAS TAKEN IN LONDON BY THE FAMOUS LONDON PHOTOGRAPHER: C. VANDYK 37 BUCKINGHAM PALACE ROAD LONDON S.W.