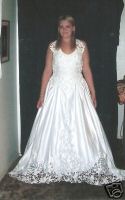 Halter Top Wedding Dress
My model is my granddaughter who was having an attitude that day so I had to crop her head off so you wouldn't see her sour look. My second model is a neighbor.She's the one in the gallery pic. Also my granddaughter is a sz. 8-10 and this dress is a good sz.14 so even though I pinned it in back it still looks big on her, Sara my neighbor is a 14, but a 16 in the rib cage so the dress fit both girls differently.

This dress has never been worn. It is not a sad story. The groom was in the military and got orders to be stationed in Germany earlier then the wedding date. So the wedding was alot smaller and sooner.