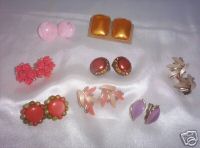 1 Coral Pair
The owner of this item was in her 90's at the time of the sale, but that was last year. She at that time could not attend because she had just suffered a stroke and was in the hospital. I don't know if she is still with us….and so here is what I was able to attain to know the history of what you are going to purchase..+

She lived in Washington, DC during the time of the presidency of Eisenhower, Kennedy and Johnson. Not only did she live in the city, but she was the "Official Gift Wrapper" in the White House for Eisenhower, Kennedy and Johnson. She had worked in the white house during all these terms of the presidents and saved numerous items from her tenure for them….she knew and was friends with all the above Presidents and their families.

We were told that she was an immigrant at a very young age from Germany, and the above information about her job. What is sad is that some of the items I purchased we'll never know if they were gifts from the presidents or first ladies, she was there an employee in the White House a very very long time…. I also was able to purchase some of her pins that she acquired while working in the white house, some of you are now the owners of those, then you purchased some of her other very old pins, vintage spools of wrapping ribbon that will you also purchased and now is all in your hands., there is still some vintage jewelry, please keep watching for her items, I have her glassware left….(this story will accompany her items)

I thought the history of this person was quite interesting, I never thought about an official gift wrapper before, but I am sure it was a really busy full time job…..