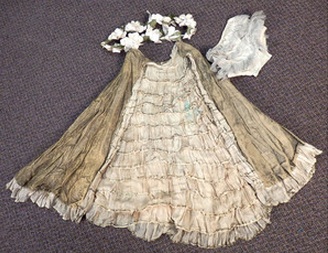 VTG 30s Stage Costume World's Fair Chicago Gold Ruffle Skirt Goddess Dress
I have several costumes from the estate of a Chicagoan who started entertaining as a child way back in the 1933 Chicago World"s Fair, she went on to be a USO singer/dancer in WWII, married another singer, and then back to Chicago on Television in Polka Party on WGN TV. Her family was kind enough to include photo copies of her wearing the costumes that will be included in the listings and I also have a copy of the article about her from nbso online casino reviews a Chicago newspaper. I will also be listing her personal scrapbook that has photos and newspaper articles, one article describes how she had to parachute out of an airplane in distress during WWII!!

This is a costume I"m guessing she wore in the 1930″s. Consists of a front closure skirt that had a gold sparkle/glitter exterior and ruffles on the inside, also has lace ruffle panties and a flower piece that from the photo seems to be worn on the head. I did not find the blouse or top. Can"t you just imagine this costume worn on stage in the World"s fair and how excited she must have been!