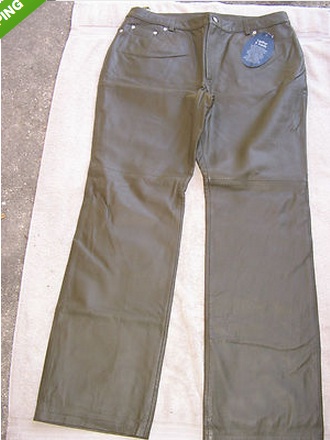 LEATHER, LINED, LODEN GREEN WOMENS 'JEANS' SZ 16 TALL,34 IN. INSEAM! JEANOLOGY,
I HAVE A FUNNY STORY ABOUT THESE AND THE OTHER PAIRS I"M LISTING. IN 2009, I HAD DROPPED SOME WEIGHT AND WASN"T SURE IF I WORE A SIZE 16 OR 18, MARRIAGE WAS TROUBLED, I WAS STRESSED, GOT A NEWPORT NEWS CREDIT CARD, AND FOR THOSE OF YOU THAT CAN RELATE, I SHOPPED LIKE CRAZY AT HOME FROM COMPUTER!!!

HENCE THE 6 PAIRS OF LEATHER JEANS!!! ONCE I RECEIVED THEM ALL, THE HUSBAND WAS JUST STARTING TO ROAM, THINGS WERE GOING SOUTH VERY QUICKLY, SO NOW I HAD 6 PAIRS OF LEATHER JEANS, AND I STARTED TO DROP WEIGHT QUICKLY!!!! ALMOST STOPPED EATING online slots AND LIVED ON BOOST DRINKS INSTEAD OF EATING. SO BY THE TIME THE DIVORCE STARTED IN EARLY "10, I"M SITTING WITH 6 PAIRS OF SIZE 16 & 18 LEATHER JEANS, NEVER TO BE NEAR THAT SIZE AGAIN SINCE!!!! DIVORCE HAS BEEN OVER FOR A YEAR AND TWO MONTHS AND NOW I WEAR A SIZE 8-10. WOULD NOT RECOMMEND THAT WAY TO LOSE WEIGHT TO ANYONE!!!!