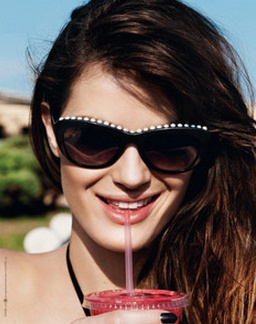 Chanel Cat-Eye Sunglasses with Pearls — never worn
True story, I grabbed a bunch of Chanel shopping bags from the recycling in my basement.  When I went to unfold them and put them away, I found these sunglasses in their case in a Chanel bag (inside another Chanel shopping bag.)  There were a few other "corporate gift" things as well, so I"m guessing a jaded fashionista neighbor couldn"t be bothered.  A similar pair sells at Bergdorf Goodman for $695.  These are made in Italy and are marked with CHANEL logos everywhere including the lenses.  I believe the online casino pearls are cultured pearls – they have a nice range of different colors. The case is also marked MADE IN ITALY.

One of the shopping bags had a mailing label from Chanel addressed to an editor at a major fashion magazine, so I"m guessing this was a corporate gift or leftover from a photoshoot.

I live in a large apartment complex in Manhattan and former neighbors include Tim Gunn, Andre Leon Talley and Taylor Momsen.